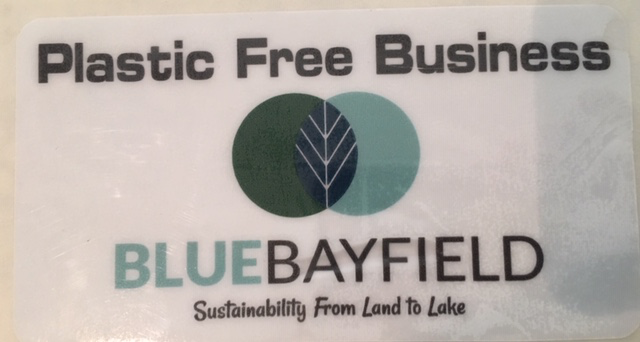 Businesses Support Plastic-Free
In 2018, Bayfield was the first community in in North America to be recognized as a PLASTIC FREE COMMUNITY by the international Organization, Surfers Against Sewage in Cornwall, UK.  Bayfield joined 500 communities in the UK, France & Portugal in committing to eliminate or reduce single-use plastics in their respective municipalities.
Blue Bayfield, the environmental organization in the village wishes to acknowledge the many eateries, businesses and organization that said YES to this project.  We encourage you to support and thank those listed below. They are identified with the sticker shown above.
EATERIES IN BAYFIELD & REGION:
SHOP BIKE COFFEE
LAKE HOUSE BISTRO
COPENHAGEN'S ICE CREAM
THE DOCKS
THE LITTLE INN
BAYFIELD PUBLIC HOUSE
RENEGADES
DRIFT
THE ASHWOOD
PIZZA BY THE SQUARE
THE BLACK DOG BISTRO
OUT OF THE BLUE FISH & CHIPS
BLYTH COWBELL BREWERY
BAD APPLE BREWING COMPANY
BUSINESSES:
RHUMBA & FAB
EDWARD JONES FINANCIAL
SPOTTED COW
WELLNESS POTION
BAYFIELD BOUTIQUE B & B
MASSAGE THERAPY ON THE SQUARE
THE WINDMILL ECO PARK
COMMUNITY ORGANIZATIONS:
BAYFIELD TOWN HALL
ST ANDREWS CHURCH
BAYFIELD INTERNATIONAL CROQUET CLUB
BAYFIELD LIONS
BAYFIELD OPTIMISTS
BAYFIELD LIBRARY
BAYFIELD UKULELE SOCIETY
BAYFIELD URBAN POLE WALKER
BAYFIELD GIRL GUIDES (ALL LEVELS)
BAYFIELD FIGURE SKATING CLUB.
EDUCATION:
SOUTH HURON DHS
MITCHELL DHS
CENTRAL HURON DHS
ST ANNES CSS
VIRTUAL HIGH SCHOOL
GOVERNANCE: MUNICIPALITY OF BLUEWATER
We invite eateries, businesses and organizations not listed that are committed to being "Plastic Free," to contact 416-678-3446. To be acknowledged as "Plastic Free" you must not be using or have committed to ending the use of these 4 single use plastic products 1) straws 2) bags 3) single use water bottles 4) polystyrene food containers.
Page 8