PRESENTATIONS & WORKSHOPS:

MAUDE BARLOW
In her keynote address, bestselling author and activist Maude Barlow lays bare the defining issue of our coming decade: the vulnerability of Canada's water reserves. According to the Globe & Mail, she delivers "the most eloquent call to arms we're likely to hear about the politics of water."
Canadian author and activist Maude Barlow is the National Honourary Chairperson of the Council of Canadians, a citizens' advocacy organization with members and chapters across Canada.  She is also the co-founder of the Blue Planet Project, which works internationally for the human right to water.  Maude chairs the board of Washington-based Food & Water Watch, is a founding member of the San Francisco–based International Forum on Globalization, and a Councillor with the Hamburg-based World Future Council. In 2008/2009, she served as Senior Advisor on Water to the 63rd President of the United Nations General Assembly and was a leader in the campaign to have water recognized as a human right by the UN.
Her latest book, 'Boiling Point,' directs Barlow's wealth of experience and expertise to craft a compelling blueprint for Canada's water security.  She is the recipient of 12 honorary doctorates as well as many awards, including the 2005 Right Livelihood Award, the Citation of Lifetime Achievement which she received at the 2008 Canadian Environment Awards, the 2009 Earth Day Canada Outstanding Environmental Achievement Award, the 2009 Planet in Focus Eco Hero Award, and the 2011 EarthCare Award, the highest international honour of the Sierra Club (U.S.).
PROFESSOR TOM DAVIS
Trained by former Vice-President Al Gore in the fight against Climate Change, Fanshawe College's Tom Davis offers practical solutions for everyday people to lower their carbon footprint and live sustainably. Learn how modern building techniques offer zero energy outputs.
Tom Davis is a Professor in the Donald J. Smith School of Building and Technology.  An environmental pioneer, his impressive resume makes it easy to see just how much he cares for the environment, sustainability and climate change.
Davis immigrated to Canada from the U.S. as an adult and began his teaching career at Fanshawe in 2008.  He has an educational background in civil engineering, majoring in environmental engineering; has worked in the high rise construction business; created his own environmental company (Green-tech Environmental Engineering Ltd.); and is an accredited professional with the Leadership in Energy and Environmental Design (LEED).
Davis was also personally trained by former Vice-President Al Gore, Chair of the Climate Reality Project, and is part of the Climate Reality Program Leadership Corps. This entails receiving content prepared by Gore and delivering it to students in sustainability at Fanshawe. Most recently, Davis and his students worked on a corporate policy to retrofit 68 townhouses across from the college to net zero design, with the hope of rolling the idea out to four other programs at the college in the fall.

RON KAGAN
What can you do with 'poo at the zoo'?  Turn it into energy, of course!  In this entertaining presentation, Detroit Zoo CEO Ron Kagan will highlight the Zoo's sustainability projects, current and future.  Their Anaerobic Digester converts animal waste to compost and methane byproduct, and Tesla Solar Shingles are on the horizon.  The Zoo has also successfully weaned its visitors off single use water bottles.  Learn how organizations can create less waste and lower their energy use at the same time.
Ron Kagan is CEO of the Detroit Zoological Society and an advocate and activist for compassionate conservation, animal welfare, and humane education. He has worked at and consulted for numerous zoos and aquaria, and lectures at universities and conferences around the world.
Ron created ten internationally award-winning wildlife conservation and welfare documentaries and established both the Berman Academy for Humane Education and the Center for Zoo Animal Welfare. He has led the development of unique and award-winning facilities including a Gorilla Conservation Research Center, the "Wildlife Interpretive Gallery" (a museum exploring the relationship between humans and animals over time and in different cultures), the National Amphibian Conservation Center, the "Arctic Ring of Life" (largest Polar Bear facility in the world), the Ford Education Center, the Wild Adventure Simulator (a motion-based cabin simulator that builds empathy for other species as people experience life through animals' eyes) and the Polk Penguin Conservation Center (largest penguin facility in the world).
PHILIP KEIGHTLEY
Climate Change is happening, and we'll all have to deal with the effects of more extreme weather in the future.  This will have a major impact on our civil infrastructure, yet traditional engineering solutions seem out of reach for small municipalities experiencing increasing budgetary constraints.
Philip will present ideas and examples of simpler and more practical solutions that are appropriate to small communities.  His presentation will be of interest to municipalities, regulatory agencies and concerned citizens that are interested in adopting an alternative strategy to addressing Climate Change in their community.
Philip Keightley, M. Sc., P. Eng, is a professional engineer with more than forty years of experience specializing in water and sewage projects and the design and management of commercial and industrial projects in both Canada and overseas.  As a past principal of a local engineering company, Philip holds a wealth of experience from the private sector. After holding the position of Vice-President and Principal Civil Engineer for the past twenty-two years, Philip recently merged his company with another local engineering company, MIG Engineering, based in Sarnia. He and his wife and family reside in Bayfield where he is active in the community in not-for-profit and other volunteer organizations. Philip earned his Bachelor's degree in Civil Engineering from Birmingham University and his Master's degree in Construction Engineering from Leeds University, England.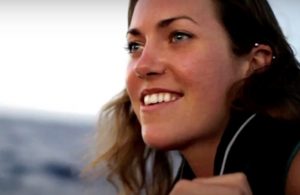 JENNIFER PATE
Through her experience on the Oceans and the Great Lakes, Jen shares a love story – a unique tale of people's passion for their local waterways and their willingness to instigate meaningful change for a healthier future. Join her for a journey through the intersection between environmental degradation and optimism. 
Jennifer Pate is a geographer and filmmaker fascinated by human-environment interaction.  She has a BA in Geography and an MSc in Environment, Science & Society (with Distinction) from the University College of London, UK. Her academic research explored environmental management and experience; film as an emancipatory tool for environmental education; and geographies of health and biological identity.
In 2009, she led a UCL-funded research expedition to British Columbia, and in 2010, was a member of the Lost World Project documentary-making expedition to Venezuela's Mount Roraima.
She was Project & Events Officer for the UK Energy Research Centre based in the Environmental Change Institute at the University of Oxford before moving back to Canada. In this position she worked with a range of academic, industrial and political groups as well as individuals to design workshops helping to solve some of the most complex energy-related issues facing the UK today.
In November 2014, Jen sailed across the Atlantic from Lanzarote to Martinique with an all-female team called eXXpedition:  the 40-minute documentary "eXXpedition: Making the Unseen Seen' which resulted premiered at the Royal Geographical Society in London (UK) in March 2015.  She has since co-lead eXXpedition Caribbean (conducting the first ever sampling for microplastics in the Caribbean Sea) and eXXpedition Great Lakes (the world's largest simultaneous sampling for microplastics in history).
When not working with eXXpedition, Jen is creating huge waves of her own at her environmentally sustainable outdoor recreation park in Bayfield called Windmill Lake.
MARI VELIZ
During rain storms or periods of melting snow, the run-off created picks up contaminants which can then flow into large bodies of water … lakes and rivers that are a source of drinking water for nearby communities.  Shallow, sunken gardens appropriately called 'rain gardens' protect local water quality by collecting, absorbing and filtering this run-off.   Rain gardens not only reduce flooding and erosion  they can also create habitat for wildlife and add beauty to a community.  Mari will discuss rural and urban stormwater management best practices, focusing on the rain garden that was built in the Village of Bayfield.  
Mari Veliz has worked at the Ausable Bayfield Conservation Authority (ABCA) since 2000.  The ABCA is a watershed management agency with a 2400 km2 area of jurisdiction along the south-east shore of Lake Huron.  She has supervised the water quality and bio-monitoring program since 2002.  As the Healthy Watersheds Supervisor, she also works with communities and agencies to undertake and implement watershed projects and plans.  Currently, she is working with local, provincial and federal partners to evaluate agricultural best management practices.  Mari has a Bachelor of Environmental Studies from the University of Waterloo and a Masters of Science from the University of Alberta.